This Indian Chickpea Curry is the same taste that you get from restaurants. It has major flavor layers. This is a warm and delicious dish for any occasion.
Indian curries are known around the world for their powerful flavors. And, with a few exceptions, the list of spices almost always includes spices that you can hunt down at specialty spices shops. Other notable Indian foods are Butter Chicken, Tikka Masala, and Biryani. 
This curry has an incredible taste and is one of the best since you can get all of the spices from the supermarket. To learn how to create this dish, check out the recipe below.
[/alert-note]
Chole: Indian Chickpea Curry
Author: Romae Chanice Marquez
Recipe Category: Main Dish
Cuisine: Indian
This recipe will take about 30 minutes to fully prepare. This recipe will make enough for 4 servings.
Chole: Indian Chickpea Curry Ingredients
For the paste,
2 tbsp oil
2 onions, diced
1 tsp fresh or dried chili, to taste
10 garlic cloves (approx 1 small bulb of garlic)
thumb-sized piece ginger, peeled
2 tbsp ground coriander
3 tbsp ground cumin
1 tbsp garam masala
3 tbsp tomato purée
For the curry,
2 x 400g cans chickpeas, drained
400g can chopped tomatoes
100g creamed coconut
½ small pack coriander, chopped, plus extra to garnish
100g spinach
Chole: Indian Chickpea Curry Instructions
Step 1: Heat 2 tbsp of oil in the frying pan to create the paste, add 1 diced onion and 1 tsp fresh or dried chili, then cook for around 8 minutes until smooth.
Step 2: Combine the piece of ginger and the remainder of oil in the food processing machine and incorporate 2 tbsp of ground coriander, 3 tbsp of cumin, 1 tbsp Garam masala, 3 tbsp of tomato puree, 1⁄2 tbsp of salt and the onion mixture. Mix into a smooth paste. If necessary, add some water or more oil.
Step 3: Cook the curry paste for 2 minutes in a pot over medium heat and stir periodically so that it does not stick.
Step 4: Drain the chickpeas, slice the tomatoes, and cook them together for 5 minutes. Add a little water and the creamed coconut, cook for another 5 minutes and then add some chopped coriander and the spinach and cook until wilted.
Step 5: Serve with rice or dhal (or both) and top with extra coriander.
Chole: Indian Chickpea Curry Additional Information
To soak up all that sauce, rice is key, ideally basmati rice. You can also serve it with coconut rice if you want to as well.
This recipe will take about 30 minutes to prepare.

This recipe will make enough curry to serve four.
Try cauliflower rice if you want to cut down on the carbs.
[/alert-note]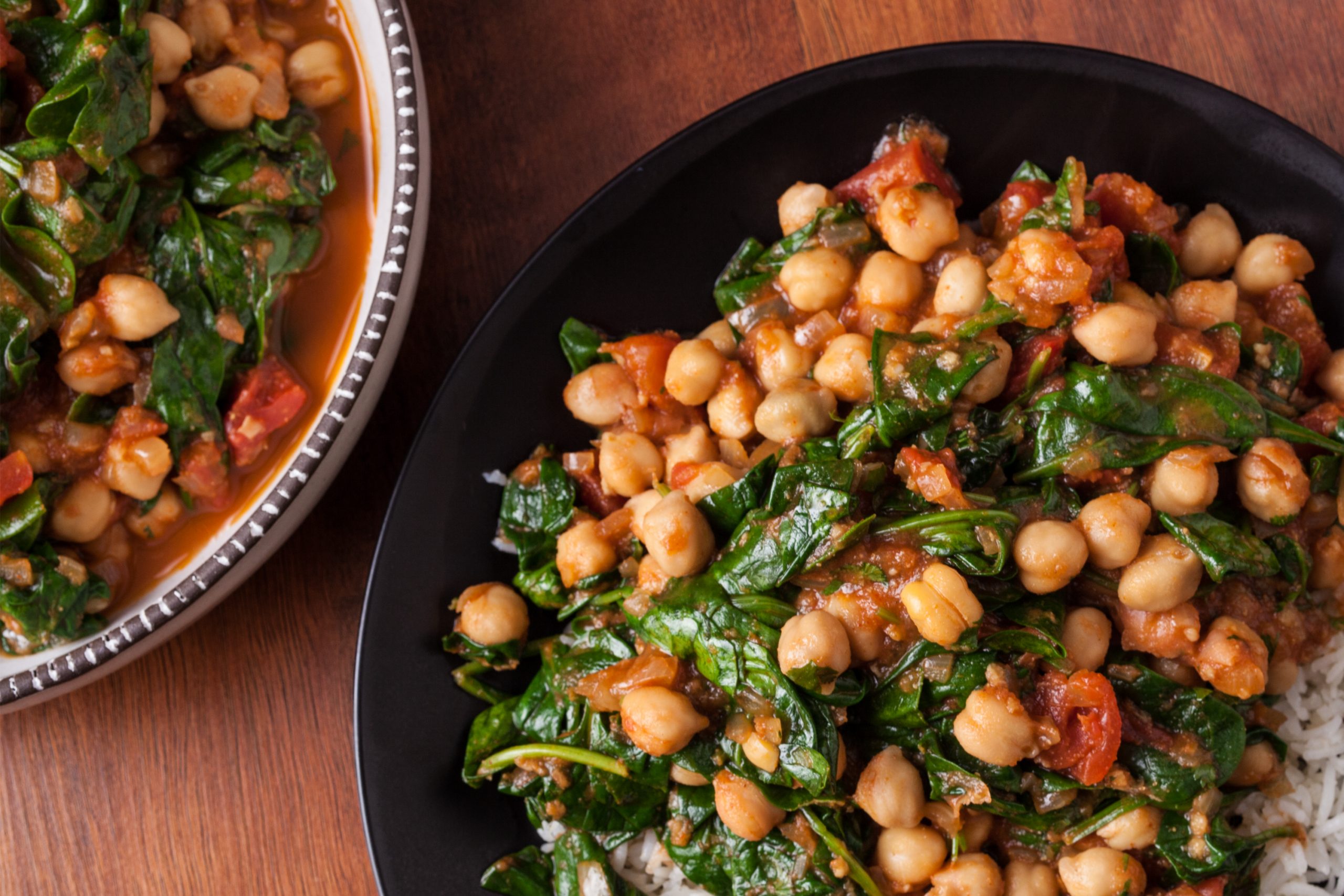 About Chole: Indian Chickpea Curry
For more spiciness, you can feel free to add more red chili and pepper to this recipe. If you don't like a lot of spice, mix the spices together without the red pepper. Then, do a taste test before adding it into the bowl.
Conclusion
Indian chickpea curry is one food where carnivores don't even miss the meat. Moreover, it's very healthy for those looking for a low-calorie alternative. You can use this dish as a main course or as a side if you would like.
Click here for more Indian recipes.
Featured Image: @nadiashealthykitchen / Instagram.com, @lifebymaru / Instagram.com