Those who love Southeast Asian food are guaranteed to have a taste for Thai food. That combination of salty, spicy, sweet and sour just go so well together. Not to mention, there are such a variety of dishes that can be enjoyed at any time of the day.
Thai dishes are known to have aromatic and savory flavors, complete with healthy ingredients and spices. Think curries, stir-fry's, soups and salads, all rich in flavour and incredibly fresh at the same time.
If you are looking to cook Thai dishes at home, luckily, Thai food recipes are accessible to anyone who has a smartphone. You can easily download any of these 5 mobile applications and begin cooking up a storm! Here are our top picks for Thai recipe apps you need in your life.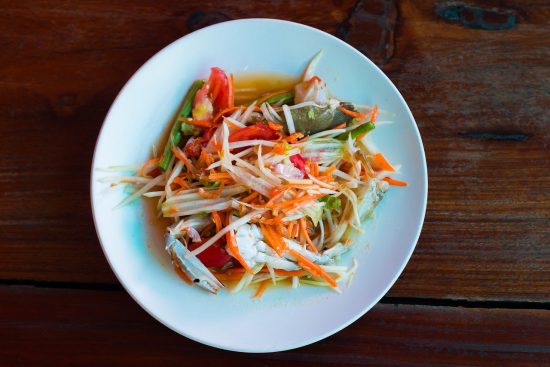 1. Thai Cooking
First on the list is the application by Kon Khmer. If you are looking for an application that offers recipes through videos, then this is the one for you. This app has a very straightforward interface, as users can easily choose the type of recipe there are looking for.
It allows you to pick a food category, including seafood, pork, chicken, fish, dessert, and others. To view the latest added videos, simply pick 'Recently.'
2. Thai Cuisine Culinary Recipes
This 100% free app allows you to access hundreds of traditional and classic dishes. Like the first app, this gives you a list of rated and reviewed recipes with complete instructions. It has more than 12,000,000 users worldwide, giving you diverse and numerous reviews to learn from.
You can also manage a list of your favorite dishes, so you don't need to look for them every time you cook.
3. Thai Recipe
This software by DIL is another recipe app that carries a wide variety of dishes, from fried noodles and noodle soups to meat-focused dishes and desserts. Every item contains detailed instructions and a photograph, complete with a shopping list that you can use while buying ingredients for the recipe.
The best thing about this application is that allows users to post their reviews of the recipes, allowing users to take notes from others who have tried out the recipe. Plus, you can use it offline, allowing you to make your favorite dish even without the internet.
4. Thai Food Recipes Offline Cooking Book, Cuisine
Another offline app gives you access to its expansive collection of authentic Thai cooking instructions. One great thing about this app is that you can customize your search to fit your needs and preferences. You can pick from categories such as 'Courses', 'Taste Buds', 'Cooking Type', and 'Appliances'.
If you are a vegetarian or vegan, then you can filter the results to only show such recipes. The app even shows the nutritional values and benefits of each dish and ingredient!
5. Allrecipes Dinner Spinner
If you are looking for an app that offers different recipes from various cuisines including Thai, then this fits your standards.
Aside from the usual step-by-step directions, refined search function, videos, and favorite recipe management, this application also allows you to create a cook's profile and share your achievements with your friends.
Conclusion
Nothing beats the ease and convenience offered by these Thai recipe applications. Just make sure that you use fresh vegetables, herbs, and spices to give your cooking that signature savory and healthy taste that you have come to love.