In Nepal, dhindo is a famous meal. It is prepared by gradually adding flour to boiling water while stirring . It is a staple meal in various parts of Nepal and India's Sikkim and Darjeeling regions. Although it is a staple food in Nepal, dhindo has previously been regarded as a lower-than-rice food and has been associated with low status.
The appearance of dhindo on urban restaurant menus coincided with an increase in the popularity of the food, likely due to the increasing understanding of the indigenous crops of Nepal, now recognized for their nutritional value. Dhindo is typically made from ground sweet wheat or millet, but also from corn.
For the thickening process of the dhindo, a narrow iron spatula called a dabilo is used. In addition, it is sometimes served with Chutney, eaten by making a small ball with your fingers, or by dipping it in something like lentil soup, meat soup, milk or gundruk.
Nepalese Dhindo
Author: Romae Chanice Marquez
Recipe Category: Snacks
Cuisine: Nepalese
Nepalese Dhindo Ingredients
Wheat Flour (or cornflour if you want)

1 L water

Salt

Butter
Nepalese Dhindo Instructions
Step 1: In a large saucepan add four cups of water and a large pinch of salt. Then, bring it to a boil. 
Step 2: When the water is heated, pour the flour into the water and stir the meal slowly and steadily with the left hand.
Step 3: Thoroughly blend, to make sure no lumps in the mixture are present. Continuous stirring avoids any lumps.
Step 4: Reduce the heat to medium-low and continue to swirl until the mixture has a dense texture, and its grainy texture has been lost.
Step 5: Make sure that the blend is warm, not runny, and not dry. When the Dhindo is able to separate the porridge from the side of the pot, it's ready.
Step 6: Remove from other pot, sprinkle with clarified butter, and whisk until well combined. Put the Dhindo on the plate or directly and eat while it is warm.
Nepalese Dhindo Additional Information
Dhindo or dhido can be served as it is. However, several of the favorite side dishes are vegetable curry, yogurt, gundruk sauce, a well-preserved leafy vegetable, and a Sisnu soup.

Before making the Nepalese Dhindo, you can first make side dishes because the dhindos tastes good when it's hot.

Not long ago, it was found rarely in a fancy restaurant, but now you can find it anywhere around Nepal because it is tasty, high quality, and inexpensive.
[/alert-note]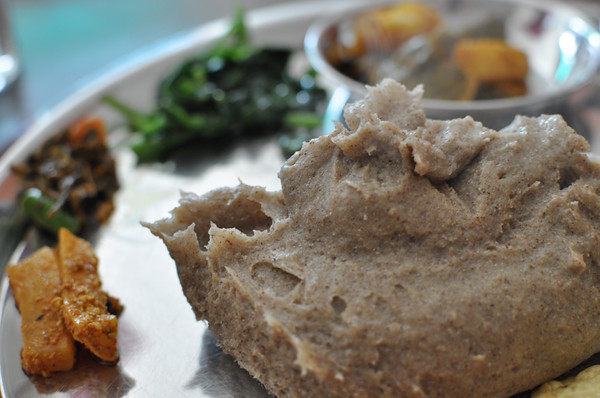 About Nepalese Dhindo Recipe
In farming communities, Gundruk-Dhindo is the most popular combination served. 
Typical Nepali round plates called thaal are served with small bowls in traditional Dhindo meals. Nepalese citizens who do hard physical work eat this nutritious meal in large quantities. It is very often seen that in the center of thaal, a big mound of Dindo is served with side dishes in small sections.
Eating dhindo also has other health benefits, besides being used as food eaten during fasts. Since the food does not contain spices or oil, it does not cause harm in the empty stomach and decreases the risk of gastric problems or other stomach issues. In addition, it helps to solve the constipation problem. 
Conclusion
This typical Nepalese cuisine uses minimal ingredients and is packed with balanced nutrients. Cooking dhindo is a simple process involving a little as two ingredients and a little effort and time.
Enjoy it at home and maybe also as a staple food for each meal. Click here for more international recipes. 
Featured Image: @hello_foodiess / Instagram.com, @nepalikhanki  / Instagram.com